Ever wonder what drives Boyd Metals' continued success as a metal service center? Well, we recently caught up with one of Boyd Fort Smith's Territory Managers, Justin Thomas, to get an inside perspective.
Find out what he had to say about his work, what he enjoys most about being part of the company, and why he believes Boyd Metals is one of the best metal distributors in the business.
What do your day-to-day responsibilities look like?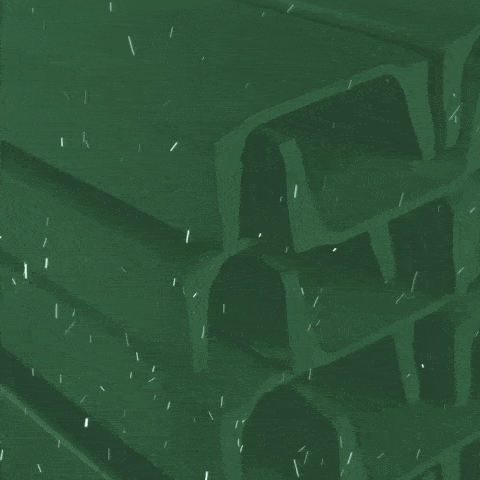 As a territory manager, my primary responsibility at Boyd Metals is to drive sales growth in a defined geographic territory. A typical day will find me on the road engaging both our current and prospective customers, developing and strengthening mutually beneficial relationships to create opportunities for growth.
Aside from seeing customers, my daily tasks consistently include planning itineraries, prospecting new opportunities, following up on bids, plant and shop tours, entertainment, sales call reporting, along with regular daily communication with our Account Management team in the office to give guidance on how best to serve each customer.
How important is company culture to the success of your job?
As one of Boyd Metals' defining pillars, company culture is extremely important. The culture here allows a lot of freedom to employees who can demonstrate a sound work ethic and build trust.
It's this freedom and level of confidence that allows me to make critical decisions on how to best serve our customers. They listen and give weight to my evaluations about certain situations and that ultimately plays a large role in our success.
What characteristics does senior leadership look for in employees in order to represent Boyd's core values?

They look for someone with a demonstrated work ethic who takes pride in all they do regardless of what is being asked of them. Working well in a team environment is also critical. Someone who is willing to listen and consider others.
The person who is willing to come in and do more than expected combined with a desire to grow will be someone who will fit in here very well.
What's your favorite part about working at Boyd Metals?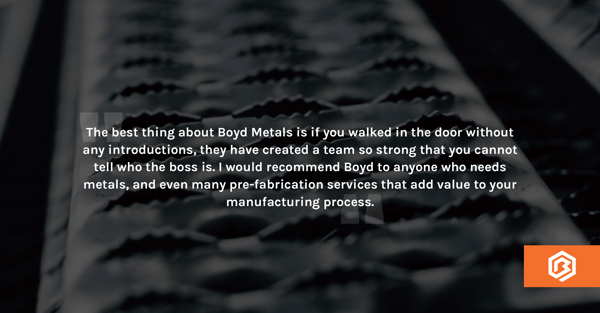 My favorite part of working at Boyd Metals is the fact everyone here is supportive of each other. I know when I'm on the road I have the full support of everyone back in the sales and corporate office to go out and make a difference for our company and customers.
I'm regularly being asked by the team for feedback and what else can be provided so I can continue to perform at my best. Knowing I have this kind of support behind me is a fantastic feeling and is one of the many reasons working at Boyd Metals is so great. Everyone here treats each other like family.
How does Boyd's leadership show employee appreciation?
The leadership at Boyd Metals shows appreciation in a number of ways. In the sales group when we meet goals and targets they make it a point to celebrate team wins by doing something special together.
The company also hosts appreciation luncheons regularly throughout the year for all employees to gather and enjoy. In addition, around the holidays they always go out of their way to express appreciation and generosity to their employees.
What do you believe makes the Boyd Difference?
The difference in how we treat our teammates, our customers, and our vendors like family. Doing the right thing at all times in managing how we interact with those constituents is what makes the Boyd difference. That behavior is consistently modeled by leadership and it sets the tone for the entire company to follow.
What's the best piece of advice you would offer to prospective and new employees at Boyd Metals?
I would tell anyone coming on board to come in with a positive and willing attitude. Be ready to learn, grow, and put in that extra effort to do more than expected. If you combine that attitude and work well in a team environment, then you are well on your way to be a perfect fit here.
What do you think gives Boyd Metals an advantage over competitors?
The relationships we build with our customers are what gives us the advantage. As an industry, we are all selling and offering similar goods and services so what sets us apart is the regular communication, trust, and collaborations we have with our customer base.
Having this type of relationship is what enables us to uniquely tailor what we do to help them grow their business. When we know our customers, their businesses, and their projects better than the competition it allows us to be much more responsive and flexible to meet their needs.
How does Boyd Metals stay competitive in the metal distribution industry?
Outside of our purchasing team who all do a great job negotiating with our mill partners on pricing, we stay competitive by focusing our resources in a way to make sure we're in communications with our customers on a more frequent basis.
Our representatives focus on tight geographic footprints to allow us to intimately know each customer, the specific industries they operate in, and the general economic conditions for that area. It allows us to make much more informed and timely decisions to stay ahead of the competition.
Where do you see Boyd Metals in the next 5 years?
Over the next 5 years, I see Boyd Metals continuing to invest in the anticipated growth that lies ahead. I can see expansion into new territories, adding additional warehouse space, and capital equipment expenditures.
Most importantly will be the investment into talented individuals helping lead this growth. All of this together will enable us to be in a position to better serve our customers as their businesses continue to evolve.
---
Ready to experience the best overall service and value in the industry?
Our team is ready to source, cut, form, and deliver the materials you need, when you need them.
Contact us or get a quote to see how we can help!