As many of us know, change is one of life's few guarantees. This is becoming more apparent than ever in the metals industry as we enter into Industry 4.0 and are seeing newer generations join the workforce.
As a company, Boyd Metals has always been a big believer in looking forward. From day one, our success has been built around finding the right people for the job and providing them with the proper resources to grow and succeed. By doing so, we have been able to create a company that not only embraces change, but sees it as an opportunity.
This is a large reason why we have been able to continually grow and expand our operations. We believe success is not the destination, but the journey; something we must continually work at. This comes from learning how to react, adapt, and evolve with the times. When it comes to investing in our companies, and the metals industry as a whole, this means focusing on the future and those who will one day be leading the charge.
As we shift into a new era with new people, solutions, and technologies, we must continue learning the best ways to attract, recruit, train, and retain talented young workers so when it's time to pass the torch there will be someone not only to accept it, but make the flame shine brighter than before. Our companies not only depend on this mindset, but so does the future of our industry.
So what can your company do to begin attracting and developing the new workforce? Here are 5 considerations to recruit and train the up-and-coming generations.
1. Know Where to Recruit
This may come as news to some, but when searching for jobs, Millennials (born 1981 - 1996) and Gen Zers (born 1997 - 2015) are most likely not skimming the white pages for job openings. Commonly known as "digital natives," younger generations were practically born with a phone in one hand and a tablet in the other. In other words, they're tech savvy and expect you to be too.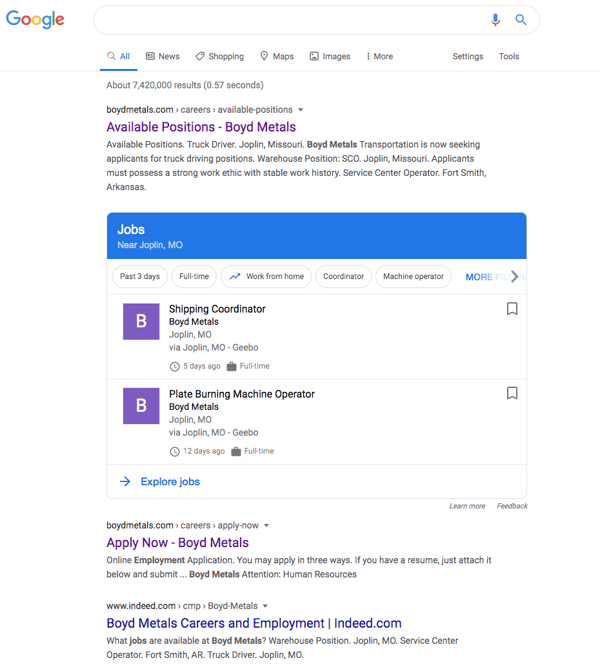 Here is a list of top job sites all linked with "how-to" resources for recruiting and posting job listings online:
With the amount of competition on the web, it's more important than ever to focus on what sets your company apart, such as providing a good work-life balance and opportunities for growth. Younger generations want to apply to places where they know there is room to develop their skills, have opportunities for upward mobility, and still have a life outside of the shop or office. But, remember before they can apply they have to be able to find you!
At Boyd, we believe the best investment you can make is in yourself! Looking for a rewarding career in the metals industry? Learn more about who we are!
2. Provide a Roadmap
Whether it's in the shop or in the office, the metals industry is becoming more dynamic than ever before. Advances in equipment, technology, and problem solving are requiring new skill sets, many of which younger generations are being equipped with and eager to use.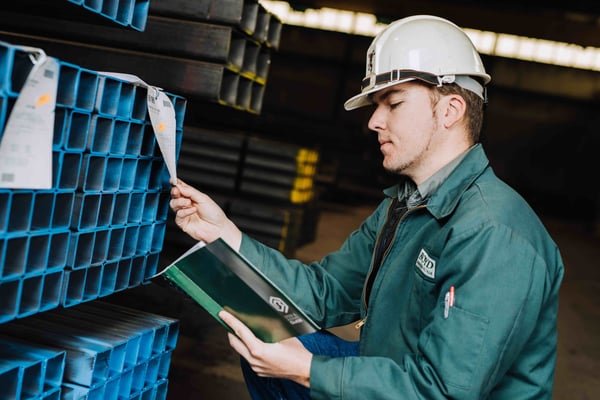 The more clarity you can provide young candidates with where they fit in the organization and how they can develop in their role, the better. This means highlighting career development opportunities, training workshops, and the new tools, software and technology available to them.
Let them see the bigger picture of how they fit in and how they can help move the company forward. Clearly communicating this upfront will not only help you attract the most qualified candidates, but help you retain them in the long term.
3. Highlight Company Benefits
When it comes to attracting Millennials and Gen Zers, it's important to be upfront about the benefits your company provides. Aside from career development opportunities, don't hesitate to acknowledge any perks and financial benefits unique to your company.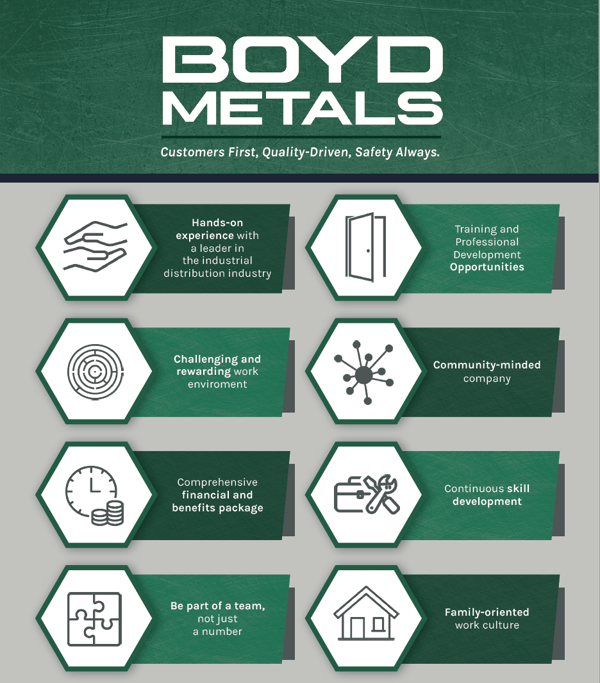 This can include incentives and benefits such as:
Competitive Pay
Vacation / Paid Time Off
Performance Bonuses
Paid Sick Days
401(K) Plans and/or Pensions
Tuition Reimbursement
Healthcare Insurance
Workplace Wellness Programs
Volunteer Opportunities
Student Loan Repayment
Rent Subsidies
Implementing these types of benefits into your hiring process and highlighting them in your recruiting efforts will help draw in top talent and set your company apart from competitors.
4. Focus on Company Culture
Did you know it's estimated we spend 90,000 hours at work? That's 1/3rd of our life1! The majority of younger generations are plenty aware of this, and as a result there has been a seismic shift in what workplace values are now being prioritized.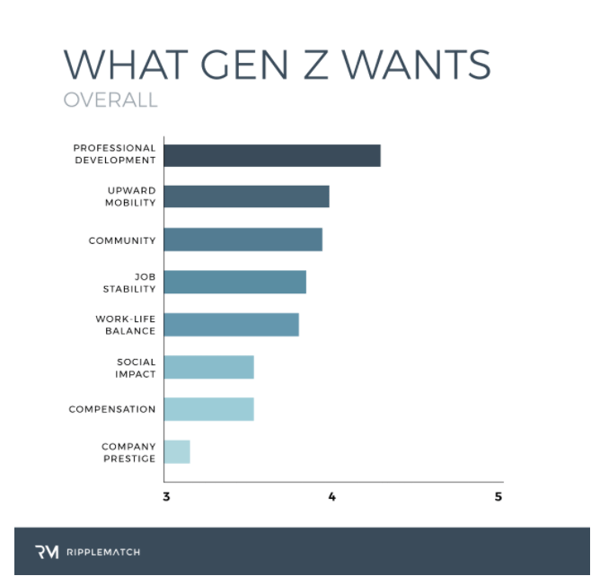 In fact, when it comes to workplace values a recent study by RippleMatch shows Gen Z ranked "Community" third as the most important factor when considering a company, well above "Compensation" and "Company Prestige"2. This means creating a strong company culture is becoming more important than ever.
Who you hire, how you lead, the principles you stand by, and the work environment you create are all part of company culture. As you create job descriptions and think of potential candidates, make sure to keep this in mind. Just because someone has all the technical skills doesn't necessarily mean they'll be a good fit.
Remember you can teach skill, but you can't teach attitude. Nothing is more likely to increase employee retention and efficiency than finding candidates who are happy spending their time at work.
At Boyd, we pride ourself on our company culture! Check out The Boyd Difference: Success Begins With Company Culture to learn more about who we are!
5. Lead By Example
Regardless of age or generation, first and foremost employees need strong leadership in place.

When it comes to developing new employees, especially younger generations, the most important thing you can do is to make sure you're setting them up for success. It wasn't TOO long ago you were in their shoes (at least that's what we like to tell ourselves)! Think about how it felt when you first entered the work force. Who took you under their wing? What type of impact did they make on you? How were you set up for success?
When it comes to Millennials and Gen Z, this means leading by example, providing constructive feedback, actively listening, and being open to new ideas. Nothing is more encouraging to younger employees than feeling respected and heard, especially by company leaders.
Providing opportunities to learn first-hand from experienced team members, while also listening to their ideas is key to not only their success, but the company's as well. After all, the more you invest into them, the more they will invest into you and the future of our industry.
---

At Boyd, our employees are our biggest asset. If you're interested in joining our team, check out our career opportunities and apply!
---
Resources: