While our products and services focus on the steel industry, the people are the heart of Boyd Metals. The biggest reason for the years of success and excellent client service is the combined effort of each employee. We surround ourselves with people of integrity and create a workplace where working hard and having fun doing it is valued.
We sat down with a newer employee, Hang Dinh, to discuss her new role as a Finacial Analyst and what it's like to become a member of the Boyd Metals team. Here are Hang's own words and insights about why she was so happy to join such a respectable and welcoming workplace atmosphere.
What's your day-to-day look like at Boyd Metals?
I've just started at Boyd Metals, so I'm going to be learning my job for a while. I'm patient, and I'm also fortunate to receive training from Ken Boyd, the CFO, on the more complicated aspects of the financial analysis I'll provide to the team. Being new in my job means that for now, I often help Account Receivable post payments and assist in verifying different vendor information to learn the ropes.
What do you enjoy most about your job?
The job I enjoy the most is learning about Excel and the important details of running reports for fixed assets. As you can imagine, serving the metals service industry in a five-state footprint means a lot of inventory. Making sure this is accurate means a lot for the internal organization as well as accuracy for quoting and delivery for clients.
What do you like about the culture at Boyd Metals?

Why are you the best person for your job?
I am the best person for this job because I like to be constantly challenged, and I continue to learn what I need to until I can complete a project on time. I also work well in teams, and in this collaborative and helpful environment, I feel like my contribution will be appreciated. I enjoy being a part of a team, so obviously, working together and sharing knowledge so we can all finish our duties by the end of each day proud of what we've accomplished.
Want to know how we have become known as a people-oriented culture example? Check out the voices of other Boyd Metal employees. Visit our careers page to learn about available positions in the metal services industry.
Hear more voices from inside Boyd Metals: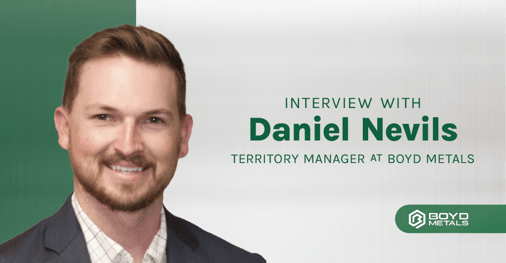 Customer Impact with Boyd Metals Territory Manager, Daniel Nevils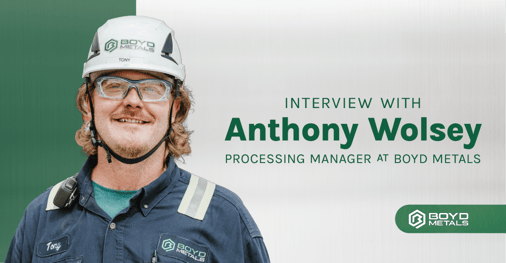 The Real Work Life of Processing Manager, Anthony Wolsey