As a business grows over time, so does their list of vendors. What started out as a short list of necessary vendors gradually becomes a list of vendors that often provide overlapping products and services. This is particularly true for businesses that lack a structured strategy for sourcing. Better vendor management can reduce stress and have a positive impact on your productivity.
There are several reasons that having a large list of vendors is a problem. The first and probably most obvious of these problems is wasted time. Having more vendors means you spend more time on the phone, reviewing invoices, and writing checks. You will also spend more time on the production floor receiving and unloading multiple shipments from all the different suppliers. Your time is valuable, don't waste it spinning in circles dealing with vendors.
The second reason proper vendor management is so important has to do with meaningful relationships. There is a real advantage to working consistently with vendors whose employees know you and your business by name. Having friends in the business means working with people who are committed to seeing you succeed.
You probably know from experience, it's easier to strike a deal with someone you're familiar with than it is to go toe to toe on pricing with a stranger.
When organizing your list, just keep in mind that it's always quality over quantity.
Lastly, as your list of vendors grows, so will your stock of unused materials - all those items that you keep on hand just-in-case you ever need them.
Using a single vendor that can stock materials you use often and delivers when you need it means you don't have to keep those materials on hand.
Now that we've established why vendor management is so important, let's talk about how you can put this into practice and make your life less complicated.
First, analyze your requirements. Create a shortlist of what you need. What products do you use most frequently? What services does your supplier have to offer?
Review your current list of vendors and look to eliminate suppliers that are used infrequently or whose products and services overlap with the suppliers you have the best working relationships with.
If this topic has sparked your interest, check out our article, 3 Steps to Simplifying Your Vendor List, for more info.
In the spirit of simplifying things, we'll leave you with a list of key takeaways:
Having too many vendors could be costing you
When selecting vendors, choose quality over quantity
Eliminate the need for stocking unused materials
Boyd Metals stocks a broad range of steel, aluminum, stainless and a variety of other products. We also provide first step processing services and next-day delivery on most orders. For our customers, this one-stop shop concept is the key to eliminating their wasted time and extra expenses. Give Boyd Metals a call and find out why we should be at the top of your vendor list.
For more information about our products and services check out our FREE Stock Book Guide.
---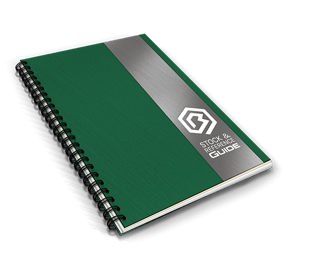 Our indexed and searchable PDF makes it easy to quickly locate the information you need.
What's Inside?
Specifications for industry standard products
Common conversion charts and guides
Available processing services by product type