At Boyd Metals, we are committed to providing our customers with better service and more value than any other player in the metal service center industry.

Many of you already know how helpful we can be on the phone. (Thanks for giving us a call!) But many don't realize that we can be pretty helpful online as well. Our website is home to a wide variety of resources that you can take advantage of today for free. From conversion charts to safety data sheets, the information you need is all in one convenient place on our site.
Guide to Pipe Sizes

We know you don't have time to waste searching for specs. Save your future self some time and download the PDF today. It's packed with everything you need to know about steel pipe dimensions, schedules and the processing services available to you from Boyd Metals.
Decimal to Fraction Conversion Chart

When your project requires you to convert fractions to decimals, and decimals to millimeters…don't sweat it. We've already done the math! Download this printable conversion Chart as a handy tool to use on your next set of conversions.
Digital Stock & Reference Guide

This downloadable PDF makes it quick and easy to find what you're looking for. Use the table of contents to jump directly to the products you're looking for. Locating less common materials is our specialty. If you can't find what you're looking for in the Boyd Metals PDF stock book, give our sales team a call and they will help you find exactly what you need.
12 Impressive and Intriguing Facts About Steel:
Curious about how the steel industry has changed over the years? Want to know what recent advances in the industry have been made? This fun guide is for you.
Gauge Card:
Find out everything you need to know about thickness tolerance ranges for both galvanized and carbon steel sheets. These cards fit perfectly in your pocket to be used as a quick and helpful guide while you're on the job.
SDS (Safety Data Sheets):
We won't bore you with the specifics, but if you are in need of Safety Data Sheets, we have those also. Check out that page here.
---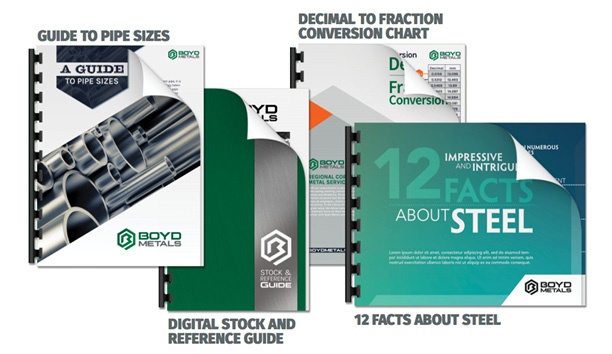 Visit our Resource Center page today to see all of the Boyd Metals downloadable resources in one place. Our handy guides can give you a jump start on your next project! If you have any questions, please reach out to us here at Boyd Metals and we will make sure you are taken care of.